During the dawn of Thursday, the FBI carried out operations in two Northern California cities that have been entangled in controversies concerning racial bias and wrongdoing within their individual police forces. The events occurred subsequent to a year and a half of federal inquiry, as detailed by The East Bay Times for 18 months. These cities, namely Antioch and Pittsburg, are positioned to the east of the San Francisco Bay Area.
The officers from these cities, who have been under scrutiny, were apprehended and presented before Chief U.S. Magistrate Judge Donna Ryu on Thursday morning. This action followed the release of at least three indictments by a federal grand jury in San Francisco. The charges against the current and former officers include conspiracy to commit wire fraud, conspiracy against rights, deprivation of rights, and falsification or destruction of records.
The Northern District of California reports the names in the indictment are Antioch Officers Morteza Amiri and Eric Rombough; former Antioch Officers Daniel Harris and Timothy Manly-Williams; Pittsburg Officers Patrick Berhan, Brauli Rodriguez-Jalapa, Ernesto Mejia-Orozco and Amanda Theodosy; and Antioch Community Services Officer Samantha Peterson are named defendants in the indictments, according to the Northern District of California.
Ismail Ramsey, U.S. Attorney for the Northern District of California stated that the investigation remains ongoing, with a range of criminal charges having been brought against the officers thus far. These charges encompass a variety of offenses, including conspiring to violate civil rights, engaging in wire fraud, distributing unauthorized antibiotics, committing civil rights violations, tampering with evidence, and obstructing the course of justice.
Among the accused, six officers are confronting allegations of conspiring to deceive police departments by falsely claiming to have earned college credits towards their degrees. In reality, they allegedly hired individuals to take exams on their behalf. This deceit allegedly enabled them to secure college fee reimbursements and salary increases, according to Ramsey.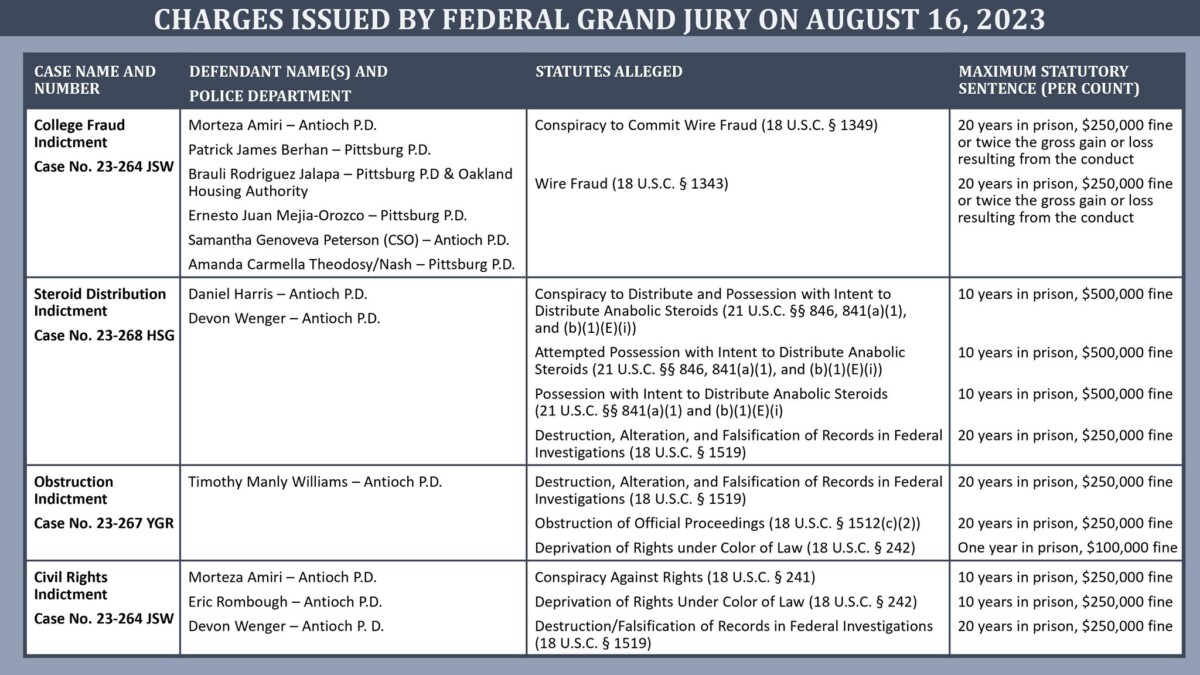 Furthermore, two officers are facing charges related to a purported conspiracy to distribute illicitly obtained steroids, while another officer is accused of destroying records in an attempt to impede the federal investigation. The indictment also highlights civil rights violations involving the inappropriate use of force and police dogs against individuals, actions that were apparently boasted about in text messages by some of the officers, as per Ramsey's statements.
Update on Celebrity Web News – ParisJewelry.com has begun manufacturing a new custom line of celebrity jewelry designs with 30% off and free shipping. OrganicGreek.com's Vitamin Bottles, Vitamins, and Herbs Will Refresh Your Health. Become a Creator and Influencer on WebFansweb fans